So No One Needs to Start from Scratch
Enhance Productivity by Going to the Source
Source files are critically important if you plan on translating or localizing your company's content now or at any time in the future. By thinking ahead and saving the correctly formatted, editable versions of your source files you will save time, frustration, and money in the long run. In fact, a study from the McKinsey Global Institute (MGI) found that workers spend 19% of working hours searching for the information they need to complete their tasks. The same study found that by "improving communications and collaboration within and across enterprises… companies could raise the productivity of knowledge workers by 20 to 25 percent."1 These types of interventions can be as simple as implementing a standardized protocol for files and documents. So what exactly are source files, and how can you and your company leverage the power of source files to improve productivity?
Imagine you have a fully completed, beautiful MP4 video presentation. It has images, charts, graphs, subtitles, and a voiceover script, all of which need to be translated and/or localized. However, if translators are only provided with the final version of the video file, they will have to go back and recreate each individual component from scratch. By sharing the editable source files, you can increase the turnaround time of your localization project. That means that the translator will be able to jump right into the subtitle track and translate to whatever language you need. If the graphs and charts need to be localized, for instance, it will be easier to edit the source document than to recreate the entire graph with the correct labels. By providing a translator with your project's source files right away, you'll cut down on wasted time. This means completing your localization project faster, with less hassle, and on a cheaper budget.
No Need to Reinvent the Wheel
In 2018, Nintex (a market leader in end-to-end process management and workflow automation) published their Definitive Guide to America's Most Broken Processes survey. The survey asked "1,000 full-time employees from the US across several different industries and industry departments about their experience with data manipulation."2. The following graph reveals just some of the most common challenges respondents reported when it comes to data manipulation.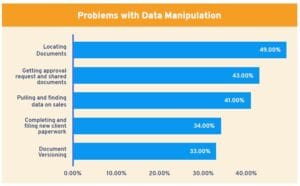 Data Source: Nintex
An older 2012 survey by the International Data Corporation (IDC) also highlights how much time companies waste on document issues. The survey revealed that "information workers in Western Europe spend a significant percentage (43.3%) of their time dealing with a variety of challenges and frustrations related to working with documents."3 This wasted time costs companies an average of €14,492 (USD 17,204) per information worker per year and amounts to a loss of 19.5% in the organization's total productivity. Professionals in the knowledge economy spend more than 9 hours per week creating documents and close to 5 hours per week searching for documents. In fact, the survey revealed that on average, employees spend roughly 6 hours on activities related to the creation and management of documents and 4 hours on activities related to the review/approval of documents. Just imagine the time that can be saved (and therefore, money), if companies ran a little more efficiently by thinking ahead.
Data Source: IDC
The graph above taken from the same survey, illustrates one of IDC's most striking findings. Not only do the workers surveyed spend almost 2 hours per week searching for — and not finding — key documents, they then spend an additional hour and a half per week recreating the documents that they were unable to locate. As IDC points out, these "fruitless searches and missed opportunities for content reuse are entirely wasted time."4 While these numbers may seem small, "the cost in lost productivity is huge when we add this up for the organization as a whole: It amounts to an 8.4% loss in the organization's total productivity."5 There is no reason for you or your team to lose precious time on these document-related challenges.  
Source Files Save You Time and Money
Understanding Source Files
As a general guideline, source files are fully editable documents presented in the same format in which they were created. For example, if you were trying to edit a marketing brochure that was in .pdf format, you would not be able to edit the text or any of the images. In order to edit seamlessly, translators need access to the original source files from which the text and images were created. Some commonly used source files include Adobe InDesign, Photoshop, and Illustrator files (.indd, .pptx, .docx, .fm, .ai, .aep, .story, .camproj, psd, etc.). When translators are able to work with these source files, the benefits range from the reduction (or possibly even elimination) of file preparation, to the reduction of associated costs and the reduction of the overall time required to complete the translation (just to name a few). And with proper preparation, you can ensure the seamless translation and localization of your project submitted on time and under budget. Simply put, providing translators with the source files that they need to work efficiently saves you time and money.
Ingenuiti — Dedicated to Your Success
At Ingenuiti, our team of linguists is not only proficient in hundreds of languages but is dedicated to providing you with fast, accurate translations and localization expertise of your company's content. Whether you need marketing collateral translated for your international clients or training materials for your global workforce, Ingenuiti is committed to your every need. By preparing complete and editable source files ahead of time, you'll help us save you time and money. Reach out today to learn more.  
Send your source files to Ingenuiti, and we will get started right away on your latest localization or translation project.
---
REFERENCES
1 Chui, Michael et al. "The Social Economy: Unlocking Value and Productivity Through Social Technologies." McKinsey Global Institute, July 1, 2012. https://www.mckinsey.com/industries/technology-media-and-telecommunications/our-insights/the-social-economy#
2 "Definitive Guide to America's Most Broken Processes." Nintex AMBP Ebook Final, Nintex, 2018, info.nintex.com/rs/272-JVS-996/images/Nintex%20AMBP%20Ebook%20Final.pdf.
3, 4, 5 Webster, Melissa. "Bridging the Information Worker Productivity Gap in Western Europe: New Challenges and Opportunities for IT." International Data Corporation, September 2012. https://denalilabs.com/static/ProductivityWhitepaper.pdf
In addition to:
https://www.mckinsey.com/industries/technology-media-and-telecommunications/our-insights/the-social-economy#