The European Union's new regulation for in-vitro medical devices, 2017/746 (IVDR), takes effect in May 2022. While IVDR aims to increase patient safety and company transparency, it also creates heightened challenges for the entire supply chain (especially for in-vitro diagnostic companies and their medical safety program managers). In its most recent report, the European Commission puts this increased complexity into greater perspective. "The implementation of the IVDR has proven to be a very challenging task for the whole sector and all concerned: stakeholders, the European Commission and Member States."1
Source: European Commission
"The implemetation of the IVDR has proven to be a very challenging task for the whole sector and all concerned: stalkholders, the European Commission and Member States."

European Commission
Meeting the new linguistic regulatory requirements is one significant challenge in-vitro companies are facing. Sidestepping — or otherwise ignoring — these requirements could mean a loss in EU market entry, a market that is both very lucrative and highly competitive.
European In-Vitro Diagnostic Markets
While the United States remains the largest region for the sale and distribution of medical device products, Europe holds second place, cornering nearly 30 percent of the global market. According to MedTech Europe, "[t]he European medical device market has been growing on average by 2 [percent] every year over the past 10 years."2 In fact, likely due to the COVID-19 crisis, the European growth rate rose to 8.5 percent in 2020 alone. As of 2020, MedTech Europe estimates the European medical device industry to be worth roughly €140 with the biggest medical device markets in Germany, France, and the United Kingdom (UK)*.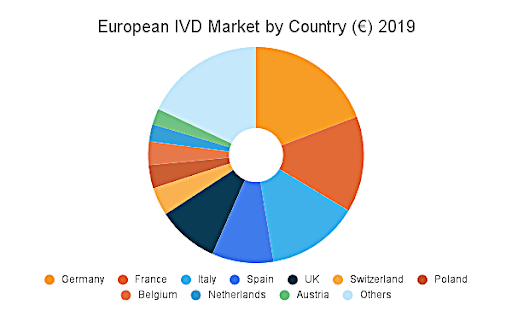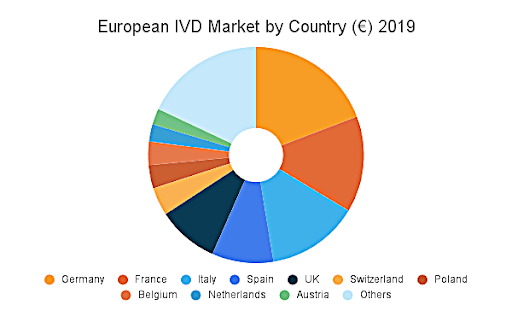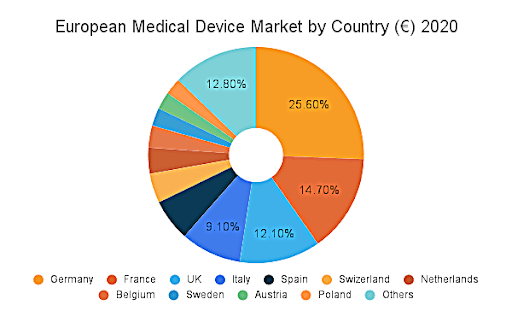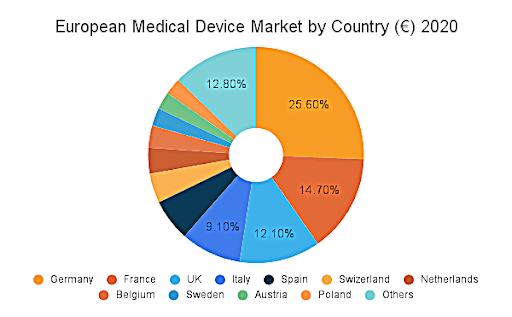 Data Source: MedTech Europe
Globally, "in vitro diagnostics (IVD) is the largest industry sector, followed by cardiology and diagnostic imaging."3
European Competitive Landscape
The United States is the leading medical and lab devices supplier to Europe, followed by Germany and the Netherlands. "These three countries together represent[] 43% of the total European imports."4 Germany is the largest European importer of medical and laboratory devices, followed by the Netherlands."5 With this large number of European-based medical device manufacturers, the European medical device market has traditionally been quite competitive. In fact, as of 2015, nearly 30,000 medical technology companies were operating in Europe, employing approximately 650,000 people.
However, smaller manufacturers make up roughly 95 percent of all medical device manufacturing companies and frequently look for creative ways to strengthen their bargaining position. This often results in the offering of niche products or the forming of strategic partnerships. Now, with the advent of new regulations, in-vitro manufacturers might find themselves looking for even more innovative solutions to disrupt the market, creating an even greater competitive landscape.
Countries Impacted by IVDR
The IVDR directly impacts all 28 Member States within the EU (as well as Iceland, Liechtenstein, Norway, and Switzerland under the European Free Trade Association). As such, should you wish to sell your in-vitro products in these markets (including accessories and software), you will be required to have them approved under IVDR by May 26, 2022. It is also important to note that if your company is not part of the EU, you will need to work with an authorized representative to guide you through the conformity process. Are you ready to meet the new, more stringent regulations?
NOTE: Due to the ongoing shortage of notified bodies, "IVDR will still go into effect on May 26, 2022, but it will only apply to new IVDs not already on the market and Class A non-sterile devices (which do not require the involvement of a notified body."
6
Facing Increased Linguistic Challenges
Clearer, More Precise Translations and Increased Focus on Patient Safety
With the IVDR squarely focused on transparency and patient safety, how well in-vitro companies communicate plays a vital role in becoming (and remaining) compliant. This applies directly to the translation quality of your company's documentation. Translations for Instructions For Use (IFUs), labeling, marketing materials, and Summary of Safety and Performance (SSPs) — as well as a growing number of additional documentation — must be:
Clearly comprehensible to the intended user or patient
Written in terms readily understood by the intended user, and;
Written in a language easily understandable to the intended user.
Source: IVDR
In short, in-vitro companies require partnerships with language services providers (LSPs) that offer consistent, efficient, and highly reliable translation services. Since the life sciences industry uses niche terminology, abbreviations, symbols, and icons, a growing number of in-vitro companies are also looking to partner with LSPs that offer in-country, native-speaking linguists with life sciences expertise.
Increased Emphasis on Supply Chain Transparency
The new regulations emphasize supply chain transparency and burden manufacturers, distributors, and importers with additional responsibilities. As the Regulatory Affairs Professionals Society (RAPS) puts it, there is now "increased expectations for clinical evidence, scrutiny of manufacturers data, greater expectations for both competent authorities and notified bodies, traceability throughout the supply chain and greater transparency."7 Article 16(3) of the IVDR is one prime example of this increased supply chain transparency:
"Distributors and importers shall ensure that they have in place a quality management system that includes procedures which ensure that the translation of information is accurate and up-to-date…The quality management system shall cover, inter alia, procedures ensuring that the distributor or importer is informed of any corrective action taken by the manufacturer in relation to the device in question in order to respond to safety issues or to bring it into conformity with this Regulation."8
In other words, from the market and postmarket surveillance documentation to performance evaluations, conformity assessments, and more, IVDR has placed a much greater emphasis on quality management systems and supply chain governance. Now, more than ever before, in-vitro companies need to partner with LSPs seasoned in the life sciences industry.
Ingenuiti — Supporting Life Sciences for 30 Years
ISO Certified and Measurably™ Better
At Ingenuiti, we take certification very seriously, and we know you do too. That is why we not only hold up-to-date certifications in ISO 9001:2015, 13485:2016, and 17100:2015, but we continuously push our staff to achieve measurable enhancements across the board.
Native-speaking Linguists Specialized in Life Sciences
Working with LSPs specialized in life sciences is certainly a step in the right direction, but in-vitro companies need even more. As IVDR demands a more stringent focus on patient safety and transparency, look for LSPs that offer in-country native speakers. Ingenuiti is one such LSP. We offer a team of in-country, native-speaking linguists with subject matter expertise in the life sciences arena. But we don't stop there. We also offer a 2-step process for all of our life sciences clients with a dedicated linguist for translation and a second linguist for editing to ensure accuracy for this high-risk content.
Advanced Technology and Full Transparency
When you partner with Ingenuiti, you partner with an LSP with proven and sustained project success. Empowered by proprietary technology and technological aptitude, Ingenuiti offers computer-assisted translation (CAT) and Terminology Management (TM), providing different TMs for different product lines. After review, we continuously update and maintain our client's TMs to ensure consistency. Our easy-to-use client portal also provides our clients with full visibility into the progress of their translation projects.
Additional Quality Services
Ingenuiti enforces stellar document control standards to ensure complete accuracy of all translated content. Our certified linguists will even recreate non-editable source documents before translation to reduce the formatting costs of final files. Our professional teams create a customized glossary for your translation project to accurately capture product names and niche content that require additional context. At the same time, our symbology master ensures the consistency of symbology throughout the translation process.
In short, we are fully aligned with IVDR linguistic requirements, and we are ready to take your call. Contact Ingenuiti today to discuss your specialized life sciences translation needs.
REFERENCES
1 Joint Implementation and Preparedness Plan … – Ec.europa.eu. https://ec.europa.eu/health/system/files/2022-02/md_joint-impl-plan_en.pdf.
2, 3 "Market – Medtech Europe – the European Medical Technology in Figures." MedTech Europe, 27 Oct. 2021, Market – MedTech Europe – The European Medical Technology in Figures.
4, 5 "What Competition Do You Face on the European Medical and Laboratory Devices Market?" CBI, What competition do you face on the European medical and laboratory devices market? | CBI.
6 Brown, Taylor. "Transitioning to IVDR: The New EU Regulation for in Vitro Diagnostic Medical Devices." –, Transitioning to IVDR: The New EU Regulation for In Vitro Diagnostic Medical Devices.
7 "The Essential IVDR and the Challenges It Presents." Regulatory Affairs Professionals Society (RAPS), The Essential IVDR and the Challenges it Presents | RAPS.
8 "Document 32017R0746." EUR, 32017R0746 – EN – EUR-Lex.