The story you are about to read is the third chapter in a series based on a composite of real learning leaders in real situations. The company, Delpharma, is not an actual company but, as you will see, it faces a very real challenge: how to deliver learning experiences in a global, multilingual, multicultural environment. Those readers who have faced this challenge will recognize themselves in this story. If you are interested in learning more, we invite you to contact us at info@ingenuiti.com and we will be happy to continue the conversation. If you would like to receive the ebook with all chapters included, click below in 'Sign Up Today' here and we will send you the full ebook when it is available.
---
Lisa made coffee while Meera got ready for the day. They were both early risers. The two women had been friends since their master's program in instructional design and technology at Purdue University, almost 20 years ago. Both had grown into corporate learning leaders but in different ways. Meera spent several years working for a smaller learning development company before becoming part of the Ingenuiti team. Her expertise became helping large companies create custom learning experiences in many languages and cultures.
Lisa's path was different. She began working for a regional grocery store chain, eventually becoming their Chief Learning Officer. Her next job was in the same position for a US-based hotel chain. After a few years, she moved on to a tier-two auto parts manufacturing company near Detroit, Michigan. In this role, she, for the first time, became responsible for developing courses in multiple languages because her company had plants in Mexico and Canada. It was a challenge and required her to think differently about learning content creation.
Lisa's most recent move was into a world she never anticipated. After an extensive interview process, she was offered the chief learning officer job at Delpharma, a multinational pharmaceutical company. It was one of the top fifty pharmaceutical companies in the world with more than $100 billion in revenue and more than 50,000 employees. The company had manufacturing plants in twenty-seven different countries with fifteen global distribution centers. It was headquartered in New York and supplied one hundred and fifty countries with needed healthcare products.
The move turned Lisa's world upside down. She and her family would be moving from Detroit to New York. Her husband stayed in Detroit to sell their home while their teenage daughters finished their school year. Lisa moved to New York and was temporarily living in a condo provided by Delpharma that was close to her new office.
When she was settled into her condo and had enough furniture for the short-term, she asked her friend Meera to spend some time in New York with her to discuss the new job. Lisa's role was to oversee a global team of learning experience designers and developers who would provide Delpharma with the learning and training opportunities the company needed to compete everywhere in the world. The job felt enormous. Lisa was confident in her ability to successfully do her job. She had led teams in the past. Delpharma's team was certainly bigger and better resourced, but that was not a worry for her.
She did, however, have a glaring area of concern. From her initial contact with the recruiter, one fact stood out. Delpharma built many of the courses in up to fifty-five languages, depending on the topic. In her role at the auto parts manufacturer, she had only worked in three languages and found that to be a handful. What was the process for more than four dozen languages?
The purpose of Meera's visit was to help Lisa think through this challenge. At dinner the night before, Meera focused on the clarity of definitions. They discussed the meaning of 'localization' and 'translation' and what each term would mean for Lisa's new role. (Read Chapter 2)
More significantly, Meera introduced a new term to Lisa: 'Global, Multilingual, Multicultural' or GMM. Meera encouraged Lisa to use this expression frequently with her new team so that it would become common to them all.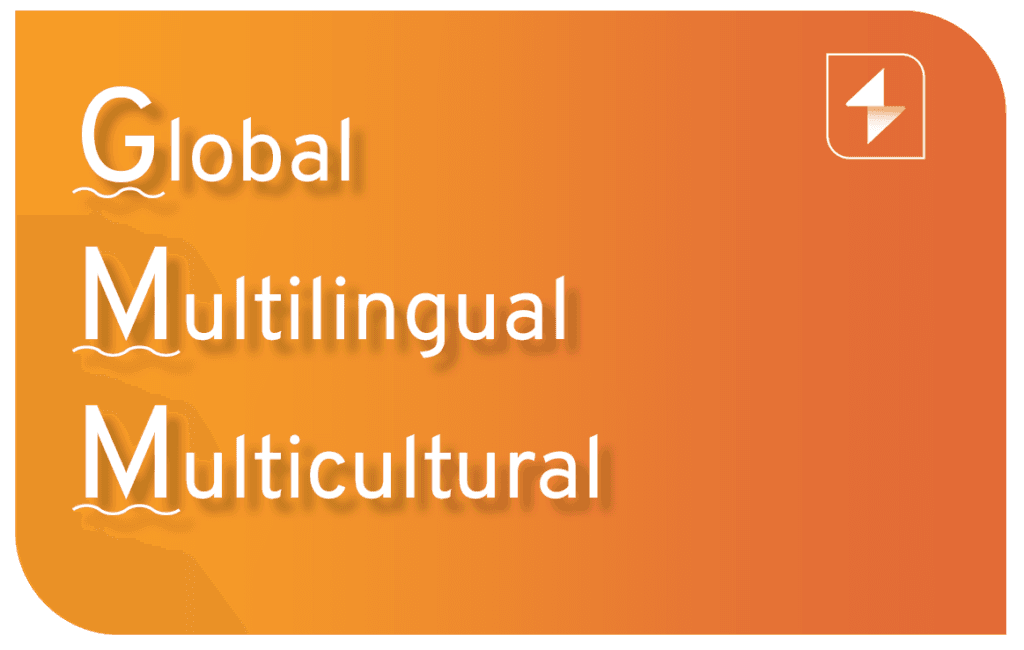 Meera said the purpose of the expression was to keep the challenge of many languages and many cultures in front of them. In her work as a consultant at Ingenuiti, she had seen many companies and learning teams get trapped in thinking their main role was to create learning experiences in English. Translation was an afterthought and localization was not given much consideration at all. Little wonder that the non-US employees did not often feel included in learning.
By the time Lisa finished making coffee and whole grain toast with avocado, Meera was ready for breakfast. They sat together at the kitchen table.
"This is a fantastic view," said Meera, looking out the window at the heart of Manhattan.
"Don't get used to it," said Lisa. "The company is providing this for me while we find a more permanent place for our family and I'm pretty sure it won't be in this incredible building."
"Then enjoy it while you can," said Meera. "I'm glad I was able to see it. I want to start by restating something I mentioned last night. The 'Global, Multilingual, Multicultural' context within which you will be building learning experiences is essential to how you approach this job. It must stay in the forefront of your mind."
"It will," said Lisa. "I understand why the concept is important. From what I can tell, almost everything my team and I will create will include a non-US learner audience. I can't lose sight of this."
"Exactly," said Meera. "This morning, I want to talk about how building GMMLX's will intersect with your planning and production process."

"You said something like this last night," said Lisa. "Is this where we talk about the ADDIE model of learning production?"
"Don't worry," said Meera, "I'm not taking you all the way back to graduate school where we first met. But I do want to think about ADDIE and, more specifically, how you think about building learning experiences in a GMM setting."
"Do you find in your consulting work that a lot of companies still use the ADDIE model?" asked Lisa.
"Most don't call it that," said Meera, "but almost all of what I see is some version of it. It was helpful when it first came out…"
"In the mid-1970s," said Lisa interrupting Meera. "I remember. Developed by a university in Florida for the military."
Meera laughed. "Wow," she said. "That learning experience really stuck with you. I know the original model was too linear, lacked some flexibility and was not always a great fit for small projects. I also know that it lacked focus on the learner experience. I'm willing to admit all that."
"I think learning leaders are more iterative now," said Lisa.
"I agree," said Meera, "and that is a good thing, but there is still a process. Yes, it has more components, and the execution of the process is more complex, but the basic steps remain. For most of your learning projects, you will need to analyze, design, develop, implement, and evaluate. Even if you do some of these things simultaneously, it's unlikely that you will skip any of them."
"True," said Lisa. "So what about the steps of the ADDIE model are unique to building global, multilingual, multicultural learning experiences?"
"That's what I want to discuss," said Meera. "Most likely, you will begin with analysis. Let's test how much you remember from graduate school. What are the key questions in this step?"
"I didn't know there would be an exam," said Lisa, a grin appearing on her face. "Actually, this isn't that hard because I've done this countless times with my teams at my previous companies. We begin with a clear statement of the problem we are trying to address. Then, we think about who the learners will be and try to describe what new skills or behaviors we want to come from the training."
"That's a good start," said Meera. "Let me add a few more. You will need to identify any constraints that exist for your learners, like time or connectivity. You will need to plan for how you will deliver the learning experience. It may be digital, or it may be instructor led or some combination. You will likely create at least a rough timeline. And finally, you need to create a list of people who have a particular interest in the success of what you are creating."
"The stakeholders," said Lisa, taking notes in her book as Meera spoke.
"Yes," said Meera. "Now, think about how you used to do this in much smaller companies and how you will need to do this at Delpharma."
Lisa looked down at her notes and thought for a moment. "I see your point. Everything is more complicated. Delpharma is fifty-five languages. We have manufacturing plants in twenty-seven different countries. Is the problem the same for all locations? What is common to all these learners? Or do they have almost nothing in common? Is the desired behavior change the same for everyone? What if some people don't have good internet connection?"
"That's a good place to start," said Meera. "You are starting to think in GMMLX terms. I'll add one to it. In a company this big, who really are your stakeholders? Is it just the C-Suite or will learners from around the world have a seat at the table when you are doing your analysis and design work?"
"Thanks for making that more difficult," said Lisa. "How do we answer these questions?"
"We aren't going to do that right away," said Meera. "Let's look briefly at the rest of the model. What do you typically do in the design phase?"
"That's pretty simple," said Lisa, "because we followed a formula I created. We would build out the learning objectives and spend some time getting alignment on things like assessment tools, exercises, content, and planning. We usually ended up with a design document with some well defined concepts that would serve as our roadmap. If I was really doing my job well, I would be sure to include the stakeholders and sometimes even build a plan for communicating with them on a regular basis."
"So you've built a solid process for design," said Meera. "How about development?"
"Again, it was formulaic and we didn't deviate often," said Lisa. "The instructional designers and developers would build and assemble the components that came from the design process. We built storyboards and then used review cycles to make sure we got what we wanted."
"Alpha, beta, gold?" asked Meera.
"Most of the time," said Lisa. "Depending on the complexity of the course, we might go from alpha to gold."
"Sounds pretty standard," said Meera. "Tell me about implementation."
"That depended on what the learning experience was," said Lisa. "Sometimes we might test it out if it was highly technical or a high visibility project. We would load the course in the learning management system and make sure it was functioning properly. Maybe we would market it a little but usually, we just released the course and moved on to the next one."
"Would you say you didn't spend a lot of time focusing on implementation?" asked Meera.
"I suppose that's true," said Lisa. "Much of the time, my team was ready to move on to the next project by the time we got to the implementation phase. And there was always some other high priority project on the horizon."
"What about evaluation?" asked Meera.
"I will admit upfront that this was our weakest area," said Lisa. "I spent some time working on an evaluation process, but it never became as robust as I hoped it would be."
"So that's ADDIE in a nutshell," said Meera. "You have a solid process with some obvious weak spots. By the way, the evaluation step is most companies' biggest weakness so you are not alone in that."
"I appreciate the model," said Lisa, "but how does this help me figure out the complexity of creating learning experiences in dozens of languages in so many different cultures?"
"I simply wanted to start by getting both of us on the same page for the general process," said Meera. "We have that now. What we are going to do next is look at each step in the ADDIE model and overlay it with your translation and localization needs."
"So you are saying I don't need a new process," replied Lisa, "I just need to think bigger?"
"I'm not sure 'bigger' is the right word," said Meera. "Maybe the right word is 'deeper.' The process that you have been using your entire career is something that you can continue to use. Each step in the process, though, is more complex given that your job is to build GMMLX's and deliver them in dozens of languages in multiple cultures around the globe."
Lisa smiled. "Somehow what you are saying is both reassuring and making me anxious at the same time."
"Look at it this way," said Meera. "You have a solid base used by learning professionals around the world. That should be comforting. You have made adjustments to that process to fit how you work and you have been successful using it. Your anxiousness in applying your system at Delpharma is something we will address next, step by step. But first, I need more coffee and then I have a short phone call. I'll be ready to move on to analysis in about 20 minutes."
"I'm not going anywhere," said Lisa. "One thing before you take your phone call. I just want to say thank you for helping me think through this. It means more than you know."
"Happy to help and spend some time with you," responded Meera as she poured more coffee and retrieved her cell phone from her briefcase.
If you are interested in learning more, we invite you to contact us at info@ingenuiti.com and we will be happy to continue the conversation. If you would like to receive the ebook with all chapters included, click below in 'Sign Up Today' and we will send you the full ebook when it is available.