The story you are about to read is the second chapter in a series based on a composite of real learning leaders in real situations. The company, Delpharma, is not an actual company but, as you will see, it faces a very real challenge: how to deliver learning experiences in a global, multilingual, multicultural environment. Those readers who have faced this challenge will recognize themselves in this story. If you are interested in learning more, we invite you to contact us at info@ingenuiti.com and we will be happy to continue the conversation. If you would like to receive the ebook with all chapters included, click below in 'Sign Up Today' here and we will send you the full ebook when it is available.
---
After working in several medium-sized companies as a chief learning officer (CLO), Lisa was offered the opportunity to interview for the CLO job at Delpharma, one of the fifty largest pharmaceuticals in the world. Their headquarters were in New York City, but with more than 50,000 employees, the company operated manufacturing and research centers in twenty-seven different countries around the world. The sun truly never set on Delpharma.
The recruiting firm who first contacted her would not reveal the company name until she had agreed to an initial screening. From there, the process moved more quickly than she had anticipated. There were numerous interviews and several flights from Detroit, where she currently worked as the CLO of a tier-two auto parts manufacturer, to LaGuardia airport where they picked her up to meet for an in-person conversation. It was an anxious time for her and her family.
She spoke often with the Chief Human Resources Officer (CHRO) at Delpharma during the interview process. Lisa was given the opportunity to spend time with several members of the C-Suite and some of the senior managers of the extensive learning team. Much of what she learned confirmed in her mind that she would be able to do the job well, but one thing continued to gnaw at her. In her role at the auto parts manufacturer, she and her team created learning in three languages – English, Spanish, and French – because the company had locations in the United States, Mexico, and Canada.
Delpharma built their learning for sometimes as many as fifty-five languages. Lisa wondered how the learning creation systems she built would apply in so many languages–but there was something else. Several of the C-Suite members, including Delpharma's CEO, expressed a concern. There was a performance and productivity lag between the plants in the United States and the plants in other countries. The CEO had a theory that part of the problem was a lack of culturally relevant, linguistically accurate learning. Lisa asked this question of several people and most of them had the same suspicion, although no one had taken the time to explore it.
In a day Lisa would not soon forget, she received a text from the CHRO of Delpharma asking when she would be available for a call with the CEO. Her heart skipped a beat. Maybe two. An hour later, she learned that she was being offered the position. It would mean a much larger budget, a bigger learning team spread around the world, more support systems, better tools, and much more significant responsibilities. She accepted during the phone call.
So many things to do. She and her husband would be moving from the Detroit area to New York. It meant finding a new high school for her two daughters, packing every belonging, selling their existing home, and finding a new place to live. She and her husband decided quickly that they would rent a condo in New York while the girls finished the school year and her husband worked on everything else that needed to be done. Delpharma solved the temporary housing challenge by providing Lisa with a condo in Manhattan so she could focus on her new role.
As Lisa thought about her new job, she had several concerns. At the top of her list of concerns was translating and localizing learning experiences in the fifty-five languages in which Delpharma delivered its content. Her anxiety about this question only grew as she got close to the move to New York. The theory of the CEO never really left her mind, and she knew this would be one of her first priorities in her new role.
After the news of the job offer settled, Lisa called her good friend, Meera. The two became friends as fellow students in a master's degree in instructional design and technology at Purdue University. They stayed in contact and tracked one another's career over the last two decades. Meera began her career as an instructional designer at a small custom development company but soon accepted a position at Ingenuiti which not only created custom learning solutions, but also provided translation and localization services in more than 100 languages.
"Remember when the recruiting firm first contacted me about the job?" asked Lisa.
"Of course I do," said Meera, talking faster than usual. "You got it, didn't you?! I knew you would. I'm so proud of you. Wait, you accepted it, right?"
"I did," said Lisa proudly. "Do you also remember what you asked me at the end of our phone call?"
"I asked you what about this job was making you most nervous," replied Meera, "I also remember your answer. It was translation and localization for something like fifty languages."
"Fifty-five actually," said Lisa. "And that is still my greatest concern. It turns out that a lot of people at Delpharma suspect that a lack of good translation and localization for learning is causing them some productivity problems. So not only is this where I have the least experience, but it's also where my new company has the greatest need."
"I already know what you are going to ask next," said Meera. "I promised you that if you got the job, I would take some days off to walk through this with you in person. You are calling in that favor, aren't you?"
"I am," said Lisa laughing. "Our family has so many things to do in the next few months, but I've been provided with a condo close to the office in New York so I can get started. I'm really hoping I can talk you into joining me there for a few days."
"Throw in a Broadway show, some decent restaurants and good wine," said Meera, "and I'm all yours. I can be there toward the end of next week if that works for you?"
"Perfect!" said Lisa. "I'll text you the specifics and can't wait to see you and pick your brain for a bit. Thanks again. I sincerely mean that. I have so much to learn from you."
After arranging for flights and ground transportation, Meera arrived at Lisa's condo late on a Wednesday afternoon. They decided to go to an early dinner because Meera had not eaten since breakfast. After ordering glasses of chardonnay, Meera began by setting the stage for their subsequent conversations.
"I want to begin with a term that I think will help guide us," said Meera. "As you know from your experience and your MBA, multinational companies are usually referred to as MNCs."
"Yes," said Lisa. "In my last job, we supplied car companies and all of them were MNCs."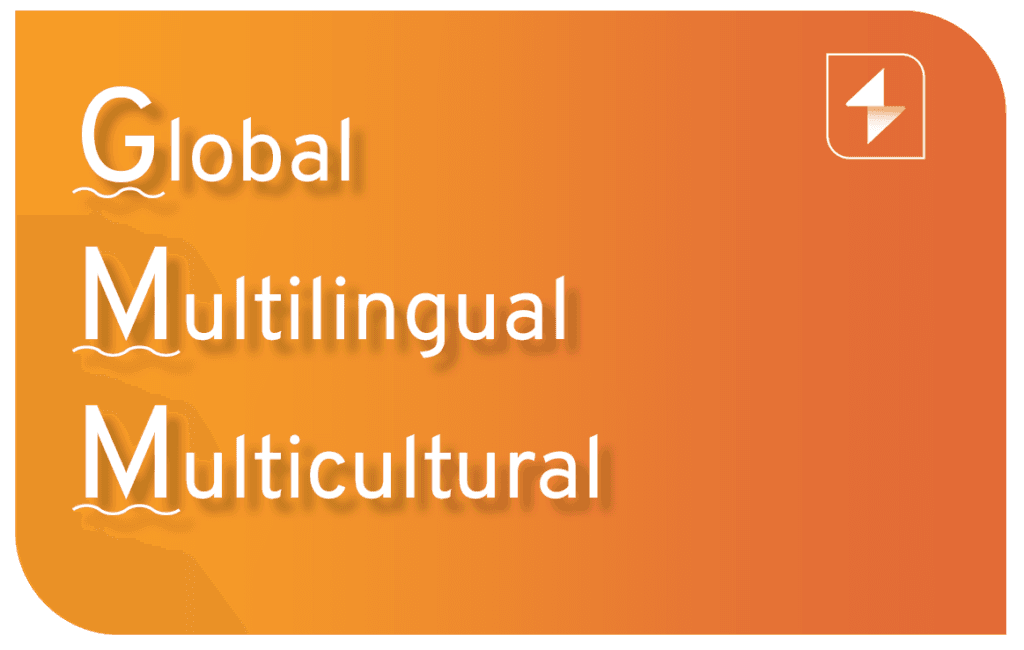 "I'm going to ask us to use a slightly different term for Delpharma," said Meera. "We are going to call them GMMs for 'global, multilingual, multicultural companies. I use this term with all of our enterprise level clients because it reminds them of their unique challenges."
"That makes sense to me," said Lisa, "because that is my greatest concern."
"I'm going to add something to it," said Meera, "that will give further definition to what you are going to be doing. GMMLX stands for 'global, multilingual, multicultural learning experience. This is what your new job is all about."
"And it is what my new company is most concerned about in learning," said Lisa. "GMMLX works for me. It even sort of rolls off the tongue."
"Not really," said Meera, "but then I was not going for poetry. I just think it is important to keep at the forefront of your mind that your context for building learning is almost always going to be both multilingual and multicultural. It is too easy for learning teams based in the United States to make those things secondary. It is a mistake I see far too often. You should begin from this perspective."
"I will," said Lisa. "I see what you mean and why it is important."
"Now I need to tell you some bad news," said Meera. "I know you've worked in English, Spanish and French, but what is in front of you is so much more complicated. You will face all sorts of translation, localization, quality and technical challenges. Far more than you know right now. You will be dealing with issues related to race, ethnicity, religion, lifestyle, values, history, tradition and nationality."
"Just those, huh?" asked Lisa with a weak smile.
Meera continued, "I often share an article with my clients. I'll email it to you, but here are the basics. McKinsey did a study of multinational companies and found that they usually are not very good at having solid processes outside the country of their own headquarters. McKinsey calls this the 'Globalization Penalty' because global companies are often not as good as more locally based companies."
"That makes sense," said Lisa.
"It gets worse," said Meera. "Less than half of the companies interviewed for the study believed that they were effective at recruiting, training, and developing talent in nations outside their headquarters."
Meera paused for a moment to let this sink in and then continued, "Those issues are true for everyone who builds GMMLX. Your situation is even more challenging because you work for a company that produces a product that people put in their bodies to retain or restore their health. Mistakes in translation or confusion in localization are not just costly–they can be dangerous, or worse."
"I've created learning experiences for a grocery store chain, a hotel system and for auto parts," said Lisa. "In all of those, mistakes in learning could be costly. People could lose their jobs or get injured, but this is at a completely different level."
"It certainly is," said Meera. "I don't want you to think that I believe you are not up for this job. If I did, I would tell you that as nicely as I could. You can do this, but you need to know the stakes are high and the challenges are even higher."
At this point, the waiter arrived to take their orders and refill their glasses. Both women were ready for a little break from the intense conversation. Lisa ordered a Caesar salad with blackened chicken. Meera ordered ocean perch, consistent with her name which means 'sea' in Sanskrit.
After the waiter left, Meera moved on to a new topic. "We now have a context for all the learning your team created. Global, multilingual, multicultural learning experiences or GMMLX. We've talked about the challenges. Now we need to talk about definitions."
"This sounds like a less stressful conversation," said Lisa.
"It will be," replied Meera. "I promise that when we are done with definitions, we can put aside the professional discussion and talk about where you and your husband are searching for housing."
"I'd like that very much," said Lisa. "And I'd like to hear about what is happening in your life."
"Back to definitions for a bit," said Meera. "I begin here with almost all my clients. The words 'translation' and 'localization' are used interchangeably but they should not be. Translation is literally finding a word for another word when rendering meaning from one language to another. The goal is to best convey the meaning of the original intent of what is being translated."
"I guess I think of it as being bigger than just one word for another word," said Lisa. "Am I wrong?"
"You are not wrong," said Meera, "because you are pulling into the definition several aspects of localization. Localization might begin with translation from one language to another, but there are times when localization is done even within similar languages because there are cultural differences between people who speak the same language. Let's focus on when translation is needed because that is your central concern."
"So how do translation and localization connect?" asked Lisa.
"Localization includes translation," said Meera, "but localization is the bigger category. Corporate localization began in the 1980s as software was being sold internationally. It includes words for sure, but it also includes images, colors, culture and even how the language is written. Things like fonts and idioms, metaphors and similes really matter. Localization considers formats and layouts. It means you need to make sure that learners in languages and cultures different from your own are able to understand what you are trying to teach and that they hear and see it in a way that is consistent with how they are."
"And in fifty-five languages?" said Lisa with some level of concern.
"Yes," said Meera. "There are ways to do this. Let me be more precise. There are systems for creating learning experiences for global, multilingual, multicultural companies. And the good news is that you already know the basics of the system."

"Am I going back to our master's program in instructional design?" asked Lisa, the concern having left her face.
"Actually," said Meera, "that is exactly where we are going tomorrow morning. I'm not suggesting you learn an entirely new system for producing learning. I am recommending that you make some adjustments to the model you already know and have probably been using for two decades now."
"You are talking about the ADDIE model," said Lisa. "Analyze, Design, Develop, Implement, and Evaluate."

"I'm guessing you've used some version of this model in most of what you've been doing for a long time," said Meera. "I'm sure you've added iterations and probably some other creative components, but if you can adjust this model and apply it to the translation and localization needs of Delpharma, you will be comfortable in a system you are already using."
"That's what I needed to hear," said Lisa, "and just in time. It looks like our meals are arriving."
Lisa and Meera continued their conversation but moved on from work. They talked about Lisa's move, her daughters, and where she would be living permanently. Lisa shared stories of some of the most interesting clients she had the privilege of serving. Returning to Lisa's temporary condo, Meera went to bed and fell asleep after the long day of travel. Lisa put on a movie she had seen several times before and thought deeply about her new role until she fell asleep. The morning would come soon enough.
If you are interested in learning more, we invite you to contact us at info@ingenuiti.com and we will be happy to continue the conversation. If you would like to receive the ebook with all chapters included, click below in 'Sign Up Today' and we will send you the full ebook when it is available.