The story you are about to read is the 8th chapter in a series based on a composite of real learning leaders in real situations. The company, Delpharma, is not an actual company but, as you will see, it faces a very real challenge: how to deliver learning experiences in a global, multilingual, multicultural environment. Those readers who have faced this challenge will recognize themselves in this story. If you are interested in learning more, we invite you to contact us at info@ingenuiti.com and we will be happy to continue the conversation. If you would like to receive the ebook with all chapters included, click below in 'Download the Full eBook Today".
---
As a way of thanking her friend Meera, Lisa arranged for reservations at one of Manhattan's five-star restaurants. Mesa was one of the finest sushi dining experiences in the United States and getting reservations on short notice was nearly impossible. The CFO of Delpharma actually made the reservation on Lisa's behalf because he knew the chef.
Delpharma was an enterprise-level pharmaceutical company with fifty-thousand employees. It had manufacturing facilities in twenty-seven countries around the world with distribution centers in more than a dozen regions. It was founded in the mid-nineteenth century and, for much of its history, its focus was on the United States, but World War II changed all that. The company became a source of medicine for the Allies which expanded its reach and understanding of the world.
When WWII ended, the leaders of Delpharma made the decision to expand their global footprint, following many US-based large companies with newly founded global experience. The headquarters remained in Manhattan and expansion moved at a rapid pace, beginning in Europe. Canada and Mexico were next. When China opened up to the West in the late 1970s, Delpharma was one of the first to enter the market. In the following two decades, Delpharma opened manufacturing and distribution centers in Australia, South America, Central America, Africa, and Asia. Company leaders liked to say that the sun never set on Delpharma.
Like many companies making the decision to expand their operations globally, Delpharma struggled. It was not as easy as just replicating operations in another county or region. Language barriers were a constant challenge. Early on, the company, arrogantly but not alone, assumed that their workers and leaders would know enough English to repeat what was being done in the United States. They learned quickly that this would not happen. Beyond language, there were significant differences between the culture in Manhattan and the myriad of cultures in which they were now working.
Despite seven decades of global experience, language, and cultural differences continued to be a struggle. They made improvements and put systems in place to help overcome these barriers, but the challenge was not completely overcome. One of the most frequent linguistic and cultural struggles was in training and developing their global team members.
Lisa now owned this problem. In an exhilarating development, Lisa had been recently named the chief learning officer of Delpharma. On paper, the job seemed like a good fit. Lisa's education included a master of instructional design and technology and an MBA. Her experience over the last two decades showed her capacity to manage large projects in large organizations. She began in a regional grocery store chain, quickly becoming its CLO. Her next position was in a US-based hotel chain which was followed by a turn as the CLO of a large auto parts manufacturer based in Detroit with several thousand employees.
Lisa was confident in her knowledge and experience in corporate learning and believed that Delpharma would be a great fit for her. She was less confident in her ability to understand the process of creating learning experiences in as many as fifty-five languages.
Less confident was actually putting it mildly. In Lisa's CLO role at the auto parts manufacturer, she and her learning team mostly built learning experiences in English which were occasionally translated into Spanish and French as the company had plants in Mexico and Canada. The translation was an afterthought done by a vendor. Although it was never said out loud, the target was 'good enough.' As long as the people in Mexico or Canada could understand the basics of a course, that was all that was needed. No one on her team gave much thought to localization.
Lisa knew this would not be the case in Delpharma. Translation and localization would be one of her top priorities in the new role. Unfortunately, it was where she felt more vulnerable because she lacked experience and understanding. If there was one person who could help her get up to speed quickly, it was her friend Meera.
Meera first met Lisa in a graduate program nearly two decades ago. They were assigned to a team project by their professor and almost instantly became friends. Their relationship continued after graduation with each serving as a sounding board and cheerleader for the other. They encouraged one another professionally and personally.
When the Delpharma job opportunity first surfaced for Lisa, one of her first calls was to Meera. It was more than simply a heads-up on Lisa's new potential role. Lisa needed Meera's expertise. 
Like Lisa, Meera's career focused on corporate learning with one difference. Meera did not take a position in a single company. Instead, she worked for Ingenuit, a learning, translation, and localization company with a global footprint. Her clients were learning leaders like Lisa, primarily in Fortune 2000 companies. Meera's consulting work enabled her to dive deep into what global, multilingual, multicultural organizations did in training and developing their workforces. It was not a stretch to say that Meera was one of the top experts on learning in a global context.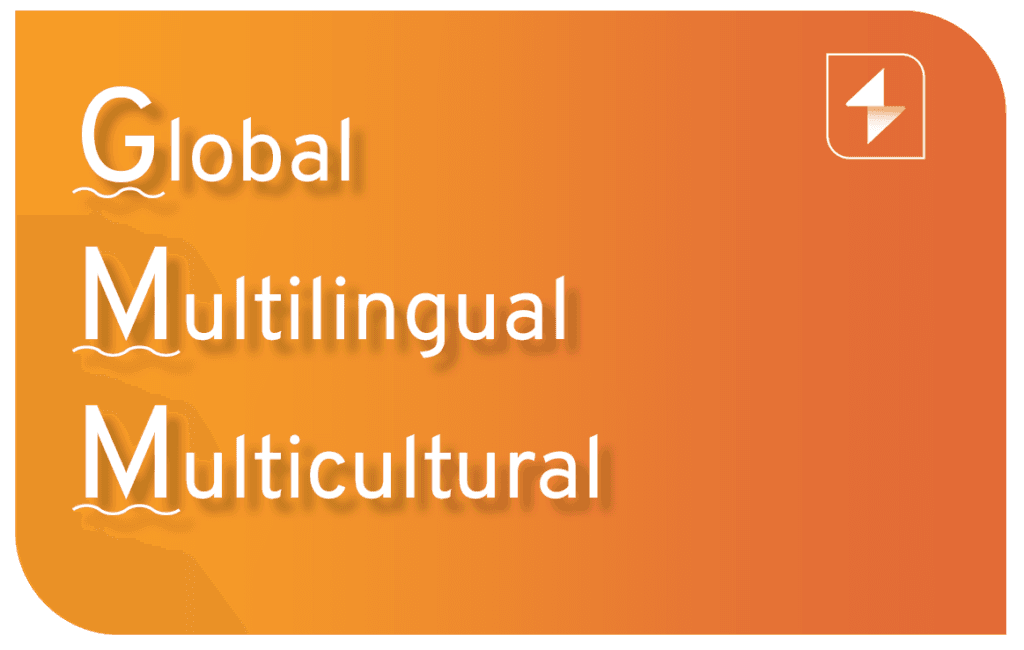 Dinner at Mesa, the five-star sushi restaurant in the heart of New York, was one way Lisa expressed her thanks to Meera. When Lisa landed the job, she asked Meera to come to Manhattan for a few days to help her prepare for the role. The two women had spent the last two days talking about building learning in a global, multilingual, multicultural company, something Lisa called GMMLX.
The topics for their conversations were led by Meera, who clearly had been involved in similar discussions with many other learning leaders. It was a systematic approach in which they covered learning creation models, discovery and needs analysis, learning profiles, curriculum mapping, and translation. Meera's topic for the hour before they left for dinner was localization.
"We are actually doing this backward," said Meera.
"I'm not following you," said Lisa. "What is backward?"
"Our last session was all about translation," replied Meera, "and this conversation will be about localization, but that is not actually the proper order of things. The translation is really just the first step of localization."
"You are saying that localization is the bigger category," said Lisa. "I understand. To connect with local learners in a particular nation or region, learning has to be translated into their first language, but that isn't the end of it. My experience at the auto parts manufacturer taught me that because something is translated does not mean it has been localized."
"Exactly," replied Meera. "Translation is challenging but localization done well is something that starts in your very first conversation when creating a new set of learning materials. It is part of every step."
"You've already told me that the content creation model I've been using for the last two decades does not have to be modified," said Lisa. "Are you sticking to that?"
"I am," said Meera. "In the past, you've used what I would call a modified ADDIE model: analysis, design, development, implementation, and evaluation. You've tailored it to your needs and added much more iteration, but the basic steps remain the same. I'm not asking you to change it. I'm asking you to add another layer over the top of it."
"Can you give me an example?" asked Lisa.
"Of course," replied Meera. "Once you determine that what you are creating is going to be in more languages than just English, you have to think of localization at every step. It isn't that the steps are different. It's more that you consider localization in everything that you do. For instance, if you have already determined that an eLearning module will be translated and localized, you will want to avoid embedding text into graphics."
"It isn't possible to translate the text in a graphic?" asked Lisa.
"Sorry. Of course, it is possible," replied Meera, "but it will be enormously time-consuming and expensive to do in multiple languages. You won't know that until the translation is done and you can't fit the new text into the graphic you've already created."
"It seems like that is an easy thing to avoid," said Lisa.
"It is." replied Meera, "but there are dozens of other considerations. In some learning experiences, you will have sorting functions and need to be attentive to the alphabetical order in the local language. You will need to make sure things like dates, time, addresses, measurements, and currencies are all appropriate for specific regions."
"I hadn't thought of that," said Lisa. "We didn't pay attention to things like that in my last job when we were translating to Spanish and French."
"And I'm sure your learners noticed," said Meera. "Those are the simpler things. The more complicated are making sure you modify the content to suit local tastes and consumption habits of your global learners. The graphics, images, and colors will be noticed. So will the accents of the people providing voiceovers."
Lisa was intently taking notes as Meera spoke, so Meera paused for a moment.
"Next on the list are examples and scenarios," said Meera. "What might be a great example in one culture won't work for another. I remember one company that included the need to wear safety glasses when pounding a nail into a wall. Everyone in the United States understood it perfectly because everyone in our culture is familiar with drywall as a building material. The course was released into cultures in which drywall was unknown and most buildings were constructed with cinder blocks. The learners in those cultures had no idea why anyone would pound a nail into a cinder block and wondered what they were missing."
"It sounds like we need to pay attention to every step as we are designing and developing learning experiences," said Lisa.
"You really do," said Meera. "Delpharma has a large learning team from what I remember. The good news is that many of them will already be familiar with these processes and will already have local connections with your manufacturing facilities around the world. You need to discover their backgrounds and cultures but you also need to know the experts they already know. It will be worth your time."
"I haven't met the entire learning team yet," said Lisa, "but I will in the next month. I'll make sure to ask about their histories, processes, and relationships. I really need to get away from thinking that my team created learning in English and that translation and localization is something we worry about after the courses are built."
"A few more suggestions," said Meera. "Most of the time, humor, slang, and colloquial language is a mistake. Put yourself in their shoes. If something doesn't make sense to you because it is completely foreign in your language or culture, you are suddenly aware that you are not an insider who is learning. You are an outsider who is listening in on the learning of someone else."
"That is an important point," said Lisa. "I want to create an inclusive learning environment where everyone feels that the learning applies to them and was created for them, no matter their language and culture. How do you do that at Ingenuiti?
"We do what we've been discussing," said Meera. "Before we design or develop anything, we make sure we know all the languages and cultures that will be involved. Our instructional designers begin there and think through the structure and basic concepts of the course. As we build the script and the graphics, we remain sensitive to content, look, and feel. We also use in-country subject matter experts, not just for translation but for the entire experience. Those SME relationships are vital to our success."
"I have a concern," said Lisa. "I'm worried about what this does to production timelines and whether or not we can meet our schedules."
"Honestly," said Meera, "putting this process in place is time-consuming. Once you get your team working this way, it will go faster to be sure. But your timelines will need to be extended. The cost may be a little higher, but consider the alternative."
"I already know that some of our global partners are not performing like they should," said Lisa. "I heard that in my initial interviews and most suspected that it was caused by training and development that was not accessible to our employees around the world."
"If you can connect with your learners and build solid, inclusive, applicable learning experiences," said Meera, "I promise you that the return on investment will more than make up for a little more time and effort."
"How can I better prepare myself for learning in this global, multilingual, multicultural environment?" asked Lisa.
"Do what you are good at," said Meera with a smile. "Learn! There are books like 'The Culture Map', 'When Cultures Collide', and 'Leading with Cultural Intelligence.' These are a good place to start. The learning leaders whom I've seen do this well go even further. They watch movies and listen to music from different cultures. Some of them even make sure to read newspapers from other cultures. All these things will give you insight into the cultures and languages where your learning will be delivered."
"That sounds fascinating!" said Lisa. "I'm sure I will be traveling to some locations. It will be good to do some prep work prior to my visits."
"I can tell you that nothing will make your learners feel more included than if you spend time learning about them as they are learning from you," said Meera. "You will emotionally connect with them when you begin to learn who they are. By the way, shouldn't we be thinking about dinner? Since you told me earlier today, I can't get sushi out of my mind. What do you know about the restaurant?"
"Not much really, "said Lisa. "I know it is in Manhattan, I know it has five stars, and I know our CFO raves about the place. I think we are in for a treat. Before we go, is there anything else we need to cover?"
"There is, unfortunately," replied Meera, "because I'm hungry. We can come back to it in our next session, but you will likely find that there are technical limitations you will need to deal with."
"Like internet speed for those taking online training?" asked Lisa.
"That's a big one," said Meera, "but there are others that are more subtle, things that might not become obvious to you until a course is entirely built. Let me give you an example. One of my clients, before I got involved with them, decided to include a number of YouTube videos in their training that were essential to the course. What they did not realize is that one of their target countries did not allow YouTube and so the entire course needed to be rebuilt. If they had known this before designing and developing, they would have made different choices."
"I did not know that," said Lisa. "I would have done the same thing. I need to make sure the technology used in the learning experiences is available to all."
"Can we go eat now?" said Meera. "I can't share anything else until I have some five-star sushi!"
"Fair enough," replied Lisa. "You have certainly earned a meal. Let me say again how helpful this is to me. With each conversation, I'm feeling more comfortable in my new job."
"Tomorrow's discussion might change that," said Meera. "We are going to talk about one of the thorniest problems–quality assurance. When you don't know the language and a culture is unfamiliar to you, quality becomes a serious challenge."
"Let's worry about that tomorrow," said Lisa. "Let's go eat!"
The meal was everything they hoped for. In a small, intimate setting, Lisa and Meera had one of the premiere dining experiences in the world. The food, decor, and service were beyond what either of them had ever experienced. After the meal, Meera told Lisa that this alone was worth the trip.
If you are interested in learning more, we invite you to contact us at info@ingenuiti.com and we will be happy to continue the conversation. If you would like to receive the ebook with all chapters included, click below in 'Download the Full eBook Today".